I said in my last video I'd post a few pics of my paintball arsenal, as well as their specs. All pics are clickable.

Tippmann Alpha Black, design based on the Colt M16/M4 service rifle. It started life with a desert camo pattern, I have since repainted it black. Modifications include: Tippmann Cyclone feed system with TechT squishy paddles and vortex mod, Tippmann 6 position folding carbine stock, Tippmann M4 style forward iron sight, RAP4 tactical foregrip rail system, NCStar vertical foregrip, NCStar carry handle rail, NCStar red dot sight, NCStar laser sight, Custom Products 16" performance barrel with M4 style flash hider/compensator. Pictured with 50 round 'tac-cap' hopper. I plan to replace all the major internal components in the next few weeks, and eventually upgrade the entire gun to be fed using spring loaded magazines instead of a hopper.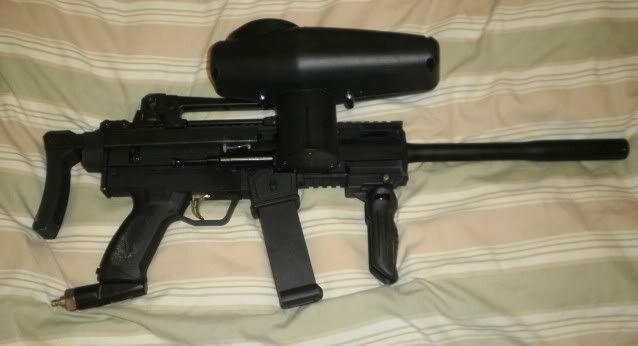 Tippmann X7 Phenom, design not based on any specific real world firearm, but similar in overall size and shape to H&K MP5 or UMP series. Gun is famous for being extremely customizable, with shoulder stocks, foregrips and other add on kits to make it very unique to the user. Mods include Tippmann A5 14" sniper barrel, Camouflage America folding foregrip, Camouflage America 6 position collapsible SMG shoulder stock, RAP4 M4 style detachable carry handle and stock Tippmann Cyclone Feed upgraded with TechT squishy paddles and vortex mod. Pictured with 160 round low profile hopper. I don't use this gun very often as it doesn't really do anything any better than my Alpha Black does, so I may sell it soon.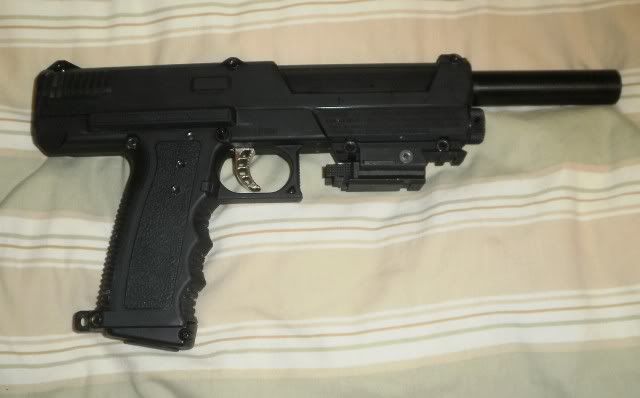 Tippmann TPX pistol, this is my backup weapon, I seldom get to use it but I've managed a couple of epic kills with it! Design isn't based on any particular real world handgun, but it vaguely resembles the H&K USP series. Comes stock with 5" barrel and a pair of 7 round spring loaded magazines, but I've bought 4 additional 8 round mags. Upgrades include: extended barrel(actually the stock barrel from my X7), NCStar low profile laser sight and Tippmann remote line adapter. This gun operates using compact CO2 cartridges, but with the remote line adapter can be powered by an external air/co2 tank.
Planet Eclipse Ego, 2008 model, upgrades include: Empire Prochecy electronic feed system with 280 round capacity, Empire RF transmitter kit, Ninja Air Products 72cubic inch, 4500PSI carbon fibre air tank with NXe bottle cover and Virtue handgrips. I bought this gun used and it included a Custom Products inline regulator and Planet Eclipse Cure3+ bolt. I love this gun.